Our Auto Repair Services
             We Provide Array of Automotive Services Including Repairing of Luxury European/German Cars like BMW, Mercedes, Audi and Volkswagen in Brampton at Reasonable Rates.
To be an Uber driver, one needs to have a Safety Standards Certificate (SSC). SSC makes a car eligible for Uber drive on various factors out of which, one is to have a legitimate experience. The SSC is valid for some days only depending upon the location.
The up class rolling of wheels is checked with tire laser alignments. Which ensures precision in alignment and assures the ride is smooth and not swaying.
Tire installation is an expert job. Neatly and accurately installed tires enhance driving experience and promote safety. 
Wheel Balancing extends the life of tires and enhance the basic safety of the car. Well-balanced tires improve the driving experience and improve fuel efficiency.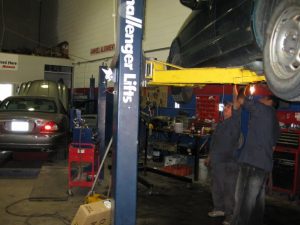 Safety Standards Certificate (SSC) is necessary to put plates on the car as it is a proof that your car has passed the minimum passing criteria. If you are buying or selling a new car or riding for Uber, you need a SSC.
Changing oil at regular intervals keep engine lubricated, clean and protected which in turn reduces engine's wear and tear and increases fuel efficiency.
We provide free estimates on all type of auto repair and tire repairs work  which your vehicle is in need. Just drive by and our experts will do the rest.
Wheel alignment adjusts the vehicle's suspension for a safe drive. Regular alignment helps in longer lasting tires and save money.
Ensures you a safe and secure Journey
Harrad Auto Services is a one-stop-shop for all your automotive demands. Be it the brake services, wheel alignment, wheel balancing, or inspection of the car, we assure you to offer a wide range of quality services at affordable prices and in the shortest period.
Having car Trouble? Don't wait, choose us
Harrad gives you accurate information and repair services about your car. Isn't it great everything under one roof. You can get your car repaired, wheels balanced, new tires installed and what not. Our professional technicians ensure to give the vehicle a whole new look and at affordable prices.